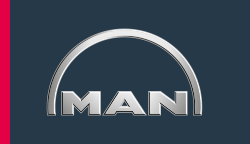 WE'RE MOVING FAST. YOU CAN TOO.
Our big ambitions in a fast-moving transport industry make for an agile and dynamic environment that offers lots of opportunity for growth. For the business, our customers, and most importantly – our team. And it feels good.
Teamwork defines us and our culture. Without our Pride, we wouldn't be able to deliver the very best customer care. So we can be proud of our products and services, stay ahead of emerging technologies and innovation, and ensure you are confident in your role wherever you join us, we continue to invest heavily in training and development at all levels. Engaging in new learning keeps us ahead of the game in our rapidly growing market.
From the very beginning, everyone who joins MAN, whether that's as an Apprentice, Director, or every role in between, benefits from a unique onboarding programme tailored to their role. Product knowledge, company history and understanding the brand are just some of the areas we cover. Each plays their part in helping you take pride of place in the company through understanding our heritage and our future. Once those are covered, we look further ahead to see how we can develop your skills and talents in various business subjects using in-house training with colleagues, coaching, or external training from industry-leading experts. We want to make you feel confident, capable, and most importantly, welcomed into MAN as quickly as we possibly can.
We're proud to say that many of our senior managers at MAN joined us as apprentices. Which says something about our proactive approach to promoting from within, driven by a range of development programmes and continuous support throughout the company.
If you're looking for an exciting career where teamwork and development are at the heart of where you work, we'd love you to be a part of our team. Or as we prefer to say: 'be part of our pride'.