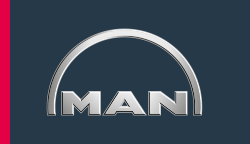 MAN at a Glance
We're proud to be part of the international MAN Group and its 260+ year heritage. MAN Truck & Bus UK is a TRATON SE company and one of Europe's leading commercial vehicle manufacturers and transport solution providers. With an annual turnover of over 9.5 billion euros (2020), our award-winning product portfolio includes vans, trucks, buses, luxury coaches, diesel and gas engines.
As well as our products, customers benefit from nationwide Dealer Network support, and with 67 service points throughout the country, we're well on our way to being recognised as the most reliable road transport service provider. To achieve our aims, we anticipate and understand our customers' ever-evolving needs in a fast-paced, dynamic marketplace. We're focusing on our innovative uptime principle and unique fleet management programme.
At the heart of our operations are the team members who drive our success – our people are our Pride. Since 1992, we've been supporting and enabling our people to take pride in delivering the kind of personable service that our customers and business partners have come to know us for. And that's even before we get to the quality engineering and technological excellence they expect from the MAN brand.
Our products are special. From vans weighing a total of 3.0 to 5.5 tons, trucks in the 7.49 to 44-ton total weight range to heavy special-purpose vehicles with a total towing weight of up to 250 tonnes: we're a full-range provider covering all weight classes. The company also produces urban and intercity buses, coaches and bus chassis under the MAN brand, as well as van-based minibuses and luxury coaches under the NEOPLAN brand. Industrial engines round off our portfolio for marine, on-road and off-road applications, as well as comprehensive services relating to mobility.
With a record eight times winning the International Truck of the Year Award and more than 100 years of history, our product range proves that efficiency is more than just a trademark for MAN. If you share our ambitions, we'd be proud to have you join us on our journey.
Join the Pride.
A promise by the nation. The covenant is a promise from the nation ensuring that those who serve or who have served in the armed forces, and their families, are treated fairly.
Our community
With 65 dealers and customer support centres throughout the country and our around the clock roadside emergency service #Mobile24 being just a call away, you can guarantee we're always here for you: Find out more: bit.ly/3Xv2Pu8
Painting the UK Green. Great to see the Neoplan Tourliner in Flixbus Green on the cover of Coach and Bus Week. This is one of two new vehicles operated by Hearn's Coaches FlixBus
Do you come from a truck sales environment? Do you have what it takes to join our salesforce and work for a major truck manufacturer? Check out further job details:
Fahren für Deutschland | MAN Truck & Bus verteilt Ritter Sport Schokolade an Berufskraftfahrende>
Watch video
Modelljahr 2024 | Front Detection und EBA Plus an unserem Truck>
Watch video
Ohne uns Fahrer läuft nichts>
Watch video