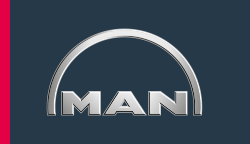 Technical Trainer
Location: Swindon
Salary: Competitive -
Hours: Full Time
Contract type: Permanent
Closing date: 05.11.2021
Job details
Do you experience within delivering technical training within a HGV environment?
We are recruiting for a Technical Trainer to join our team in Swindon on a full time permanent basis.
In this role you will design, develop and deliver industry leading technical training courses for the MAN Dealer Network, Customers, Clients and internal staff.
Your role will include but not limited to the following:
. To deliver technical training for workshop staff of both MAN dealers and customers, in line with the agreed training plan (at HQ Swindon, and regionally at key locations around the UK from time to time). To assist in producing an agreed rolling 6-month forward training plan which shows course type and dates/locations. To research, develop and update all course content as required (fully reviewed at least every 12 months). . To produce training aids, virtual training, eLearning, and update course material and content as required for each training course/delivery. To attend (when required), MAN factory Train the Trainer (TtT) courses or personal / industry related training courses. To communicate and assist, where necessary, with the technical support department and Aftersales field teams, to resolve technical issues. To carry out on site training to dealers and customers when required. To monitor and record any non-conformance of the quality systems and implement and record the required corrective and preventative action within the area of responsibility. To work closely with the Technical and Apprenticeship Manager and where required, deliver apprentice training (very occasionally)
In order to perform this role effectively, you will ideally have worked in a technical training role previously within the automotive, or more specifically, the HGV arena. You will have experience of research and development of technical components, as well as being able to produce visual aids and f2f and virtual training sessions. It would really benefit if you have worked closely with internal training academies to ensure that your training materials can continue to evolve and be up to date.
It is important to us to make sure we look after our employees and therefore we offer a competitive salary + plus bonus. You will have access to our extremely attractive benefits scheme that includes perks such as private health care, a healthy contribution pension and 25 days holiday (with the opportunity to buy more), attractive employee car scheme to name a few.