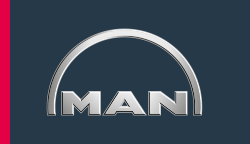 Top tips
Thinking about joining the pride? How to give it your best shot.
Our team continues to grow and were always looking for new talent to join us on our journey. So, if you've seen an opportunity and are thinking about joining our pride, we understand both how exciting and daunting that can be. We've been where you are!
Job interviews are never easy and it's fair to say that most people dread them. So, the first thing we would say is if you're nervous, it's good to know you're not alone.
What you can do to reduce those nerves is prepare. Doing your homework and anticipating possible questions will automatically make you more confident. So, while it might feel a bit silly to practice questions on your own or with a friend, it's a really sensible thing to do!
To help you prepare a little more, we've put together a list of the things the team here at MAN found helped them when they were where you are – and that helped them get to where they wanted to be!
Check them out and give them a try – we'd love to know how you get on.
1. Find out about the company
This is an easy one these days – Google is your friend! Almost all companies have a website with news items or a blog. Spending an hour – or as long as you can – digging around to find out about the company, its culture, aims and ambitions will help you not only decide if you're right for the company, but also if the company is right for you. Also check out LinkedIn or do a news search to find out anything notable. It will give you a good insight into how the business works and where it's going.
2. Know what you're applying for
A job might look like a good fit for you but is it really? Check the job description and person specification against your skills and experience. Often, some requirements are must haves while others are preferred. Knowing the difference will give you confidence in answering questions and show where you might need to firm up your knowledge.
3. Think about what makes you the perfect candidate
Just like tip No.2, this is all about joining the dots between your skills and experience and what the job is asking for. Then go one step further and talk about what makes you the perfect candidate: how would you do any part (or all) of the job better than someone else? What makes you a perfect candidate? How would you add value?
4. Have examples ready
Most interviewers will ask for specific examples of times when you've demonstrated a skill. Whether you just have one or two of these examples or many, it's worth writing them down to remind yourself and add detail when you're talking through. The more you can illustrate your skills and experience and how you brought them to life, the better.
5. Imagine yourself in the job
Take a few minutes or more to think about what your first 100 days would be like. You might see yourself in uniform (if there is one), confidently working as part of the team or doing a part of the job that you love. It will all help you to get in character and get a feel for the job. This will also help you to think about questions you can ask at interview.
6. Ask questions
Once you've answered those all-important questions, ask a few of your own. This shows you're interested. Funnily enough, it should also show that you've done your research as a good question will be one that isn't easily answered by a Google search. That might be a softer question about the team, for example, or a detail that can only be answered by someone inside the company.
7. Be Yourself
Everyone else, as they say, is taken! Seriously though, being yourself is important as you'll want to be yourself at work and with your team. Trying too hard or putting on a front takes up a lot of energy that could be used to help your colleagues in the way that they help you too. And it's as simple as that. Here at MAN, everyone appreciates honesty and integrity – especially our customers and they come first.
We hope this inspires you to do your best interview ever – and remember, whatever happens: sometimes you win and sometimes you learn!
Check out our current job opportunities here – we'd be proud to have you join us on the journey.
Our community
Major Investment: MAN Truck & Bus UK opens five dealerships across Central England. In January 2021 MAN Truck & Bus UK Ltd announced the purchase of the HRVS Group and, in so doing, acquired five dealerships located across Central England: Ripley, Stoke-on-Trent, Sheffield, Scunthorpe and Sleaford, as well as a customer workshop in Burton upon Trent. David Littlejohn, Head of Branches UK, MAN Truck & Bus UK Ltd, said: "We're pleased to announce that the acquisition is now complete and the five sites are now an integral part of MAN Truck & Bus Ltd.'s wholly owned dealer network. "We're also very pleased and hugely excited to be welcoming the dedicated and highly experienced colleagues from across all the sites to the MAN Truck & Bus family. This acquisition is of major importance to our business as it both strengthens our network footprint and further ensures our presence in several key strategic locations." The new locations, now known and trading as: MAN Truck & Bus Ripley, MAN Truck & Bus Stoke-on-Trent, MAN Truck & Bus Sheffield, MAN Truck & Bus Scunthorpe and MAN Truck & Bus Sleaford increases MAN Truck & Bus UK Ltd.'s wholly-owned branch network, which now numbers 21 vehicle service and sales locations nationwide.
Steering components, shock absorbers and air springs all play a vital role in the drive and handling of your vehicle. Using #MAN Genuine parts is the only way to enjoy optimum reliability and minimum downtime - and all with 15% off. Find out more: https://bit.ly/2UEhg42
Are you a qualified HGV Technician looking for a new opportunity for one of the big 6 truck manufacturers in the UK? Do you have previous experience of working with HGVs, ideally in a workshop environment? Here at MAN Truck & Bus we are looking for an experienced HGV technician to join our depot in Bellshill. https://careers.man.co.uk/search-jobs/hgv-technician-job-bellshill-473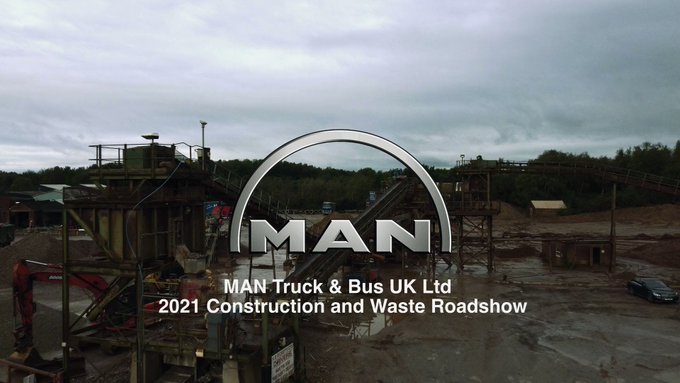 So remember our "MAN Truck & Bus UK Ltd - 2021 Construction & Waste Roadshow" starting in Scotland in July, moving across England and into Wales and finishing up Ireland, in October. Here is our day at the Roadshow in @hdrickettsB75 Weeford Quarry near Sutton Coldfield. https://t.co/OweZMt9U4b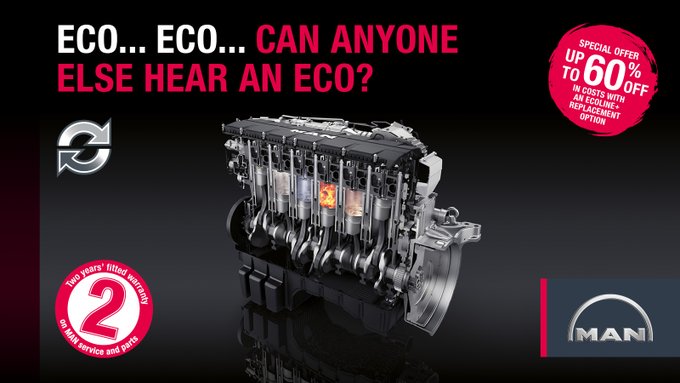 Economical, ecological, Ecoline+ engines. They're remanufactured at our Nuremberg plant, all essential wearing parts are replaced and they're most cost effective than any previous ready-to-install complete engines. Find out more on our website: https://t.co/qK8TQ30fvU https://t.co/PwgV6S2vNV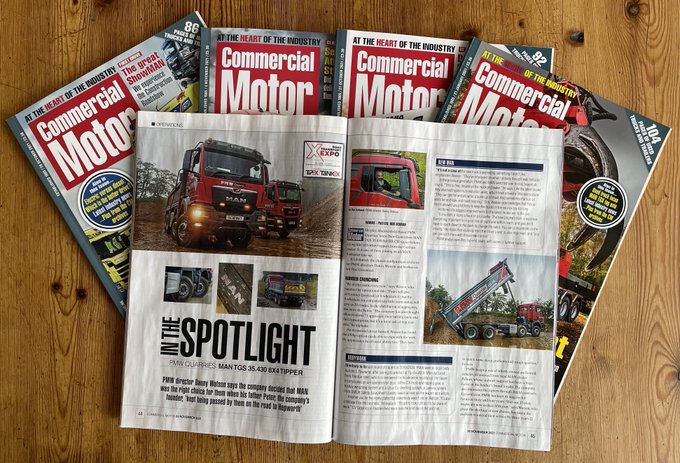 Our friends at ⁦@PMWQuarries⁩ are In The Spotlight in this weeks ⁦@Comm_Motor⁩ talking about their new New Generation #MANTRUCK TGS 35.430 tippers ⁦@pelicanengUK⁩. On the newsstand now. https://t.co/7spqBkSJ08