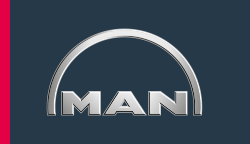 LEARN WITH PRIDE
MAN offers an exceptionally supportive, open environment in which to further your interest in business studies. The scale and scope of our business across the UK and beyond offers more than enough opportunity to get invaluable business insight, both practically and strategically.
"Our apprenticeship scheme is one of the company's greatest success stories and it is testament to MAN's growing reputation as a dynamic, technologically advanced engineering company. With the support of Remit Training, the experience and learning our apprentices receive will undoubtedly provide the technical expertise and in-depth product knowledge that will enable them to deliver outstanding service to our customers' way into the future."
Stefan Thyssen, Managing Director
MAN Truck & Bus UK Ltd
"Once again, we are delighted to have secured the opportunity to work in partnership with one of the world's leading manufacturers of heavy, commercial, emergency, and military vehicles. MAN Truck and Bus is synonymous with efficiency, innovation and a high level of customer service, which are values that Remit Training shares at its core."
"Through this partnership we are confident that we are able to deliver a programme that befits such a prestigious organisation and we look forward to creating an environment that develops excellent apprentices, and ultimately technicians of the highest quality who will add real value to the MAN Truck Retail network and keep MAN Trucks, Vans and Buses out on the road and earning."
Sue Pittock OBE, Chief Executive at Remit Training
Financial benefits

£1,000 referral bonus

Contribution pension up to 8%

Yearly bonus

Full sick pay

Career development

Multiple salary finance products

Life Cover

Mortgage Overpayment

ISA saving scheme

Loan Car Scheme

Full holiday pay
Lifestyle, health & wellbeing benefits

25 days' holiday

Gym Membership

Cycle to work scheme

Used Car Scheme

Virtual GP

Health Cash Plan

18% Ducati Discount

Free Flu Jab vouchers

Employee assistance programme
What's made me proud?
Passing my driving test
Being told by the Aftersales Director that I was 'one for the future'.
Naomi – Support Apprentice, Apprenticeships
Meet Naomi