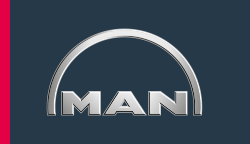 MAKE US PROUD
We're proud of our people and how they put their customers first. In turn, they're proud to work for MAN and be part of a team where they're supported every day and encouraged to learn to realise their career potential.
So if you're leaving school and want to get straight into a career that offers more than enough potential for your big ambitions, you'll find it here.
Each of our apprenticeships is designed to take you in a different direction, specialising in the area that interests you the most. Where they are all the same is how much we'll invest in your training and development, coaching and mentoring you to complete the apprenticeship confidently.
If you're interested in the commercial vehicle industry, are ambitious, hard-working and want to learn, your MAN career starts here.
About our recruitment partner
MAN Truck and Bus UK has appointed national training provider, Remit Group, to deliver its apprenticeship programmes nationally.
To support the development of the MAN Apprenticeship Academy, Remit Group will deliver all technical and non-technical apprenticeship programmes across its Truck Centres and Service Centres within the MAN UK Network.
The MAN UK Apprenticeship programme is one of the largest in the commercial vehicle industry and continues to generate high quality staff for the UK MAN dealer network. The Academy has seen more than 2,000 apprentices graduate since it was established in 1996.
Under this new partnership, Apprentices recruited and trained within the MAN Apprenticeship Academy will have a choice of programme and will work towards achieving the Heavy Vehicle Technician Standard Level 3, the Business and Administration Level 3, the Parts Controller Level 2 or Sales Executive Level 3.
Delivery of the technical apprenticeships will be a combination of theoretical and practical learning, with technical skills honed at Remit's brand new Automotive Academy in Derby. All apprenticeships within the MAN Apprenticeship Academy will include work-based, practical experience supported by Remit's Development Coaches and mentors from within the MAN Retail network.
"Our apprenticeship scheme is one of the company's greatest success stories and it is testament to MAN's growing reputation as a dynamic, technologically advanced engineering company. With the support of Remit Training, the experience and learning our apprentices receive will undoubtedly provide the technical expertise and in-depth product knowledge that will enable them to deliver outstanding service to our customers' way into the future."
Stefan Thyssen, Managing Director
MAN Truck & Bus UK Ltd
"Once again, we are delighted to have secured the opportunity to work in partnership with one of the world's leading manufacturers of heavy, commercial, emergency, and military vehicles. MAN Truck and Bus is synonymous with efficiency, innovation and a high level of customer service, which are values that Remit Training shares at its core."
"Through this partnership we are confident that we are able to deliver a programme that befits such a prestigious organisation and we look forward to creating an environment that develops excellent apprentices, and ultimately technicians of the highest quality who will add real value to the MAN Truck Retail network and keep MAN Trucks, Vans and Buses out on the road and earning."
Sue Pittock OBE, Chief Executive at Remit Training
Financial benefits

£1,000 referral bonus

Contribution pension up to 8%

Yearly bonus

Full sick pay

Career development

Multiple salary finance products

Life Cover

Mortgage Overpayment

ISA saving scheme

Loan Car Scheme

Full holiday pay
Lifestyle, health & wellbeing benefits

25 days' holiday

Gym Membership

Cycle to work scheme

Used Car Scheme

Virtual GP

Health Cash Plan

18% Ducati Discount

Free Flu Jab vouchers

Employee assistance programme
Our community
With 65 dealers and customer support centres throughout the country and our around the clock roadside emergency service #Mobile24 being just a call away, you can guarantee we're always here for you: Find out more: bit.ly/3Xv2Pu8
Painting the UK Green. Great to see the Neoplan Tourliner in Flixbus Green on the cover of Coach and Bus Week. This is one of two new vehicles operated by Hearn's Coaches FlixBus
Do you come from a truck sales environment? Do you have what it takes to join our salesforce and work for a major truck manufacturer? Check out further job details:
Fahren für Deutschland | MAN Truck & Bus verteilt Ritter Sport Schokolade an Berufskraftfahrende>
Watch video
Modelljahr 2024 | Front Detection und EBA Plus an unserem Truck>
Watch video
Ohne uns Fahrer läuft nichts>
Watch video
What's made me proud?
Passing my driving test
Being told by the Aftersales Director that I was 'one for the future'.
Naomi – Support Apprentice, Apprenticeships
Meet Naomi
What's made me proud?
Buying my first property
Signing my first order in front of my mentor and other colleagues.
Archie – Sales Apprentice, Apprenticeships
Meet Archie